Meet Our Team
Our compassionate and professional staff are committed to providing the highest quality of care, crafting amenities and services to create a vibrant and warmhearted home for our senior residents. Our team of caregivers invest in maximizing the strengths of each individual and bring a wealth of experience to our community. Please let us introduce you to some of the staff who will help you make the key decisions in selecting the right apartment and best care for you or your loved one.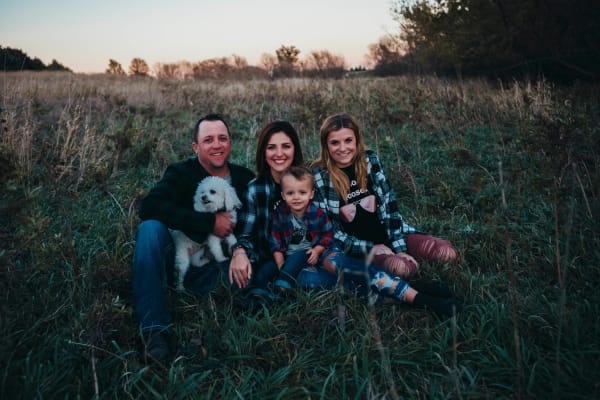 Michaela Walz - Executive Director
Talamore Senior Living would like to introduce to our Executive Director, Michaela Walz.  Michaela was raised on a farm working side by side with her family here in Minnesota until she went to college.   Michaela has her Bachelors of Science in Healthcare Management from Rasmussen College here in St. Cloud.   Michaela has a calling to serve seniors and feels it is her honor to be able to walk beside you. She believes; Never go to bed upset. Always say "I love you". Embrace every second. It is great to be different, and Smile in all situations.  You can see why we are proud to have her on our team.  One of the many things Michaela enjoys is building new relationships and it is why she is so excited to support you, your family, and our community.  Michaela and her husband Mike have a daughter, Belle, a son Maverik, and a bichon named Odis.  She and her family reside right here in the St. Cloud area.  Michaela finds she is the most content when she is surrounded by family and she sends an open invitation to you to stop by her office for a cup of coffee to get to know each other.  She is happy to discuss our senior living options in our new vibrant community along with our services and amenities.  Please give Michaela a call to schedule an appointment at (320) 230-0234.
Michaela's favorite quote: "Nothing is impossible, the word itself says, I'm possible" – Audrey Hepburn
Natalie Spiczka, is a native of the St. Cloud area and was raised just four blocks from where the new Talamore Senior Living Community is being built until age 12 when she and her family moved to the Brainerd lakes area. Upon graduating from Brained High School, she returned to the St. Cloud area and attended St. Cloud State University where she obtained a BS degree in Advertising and Marketing with a Speech Communication minor. She currently resides in Sauk Rapids, with her husband Greg of thirteen years, Daughter, Zoey (10) and two beloved kitty cats, Daisy and Rosie! 
In 2008, Natalie became her grandmother's soul caregiver as she began the end of the aging journey. While working full time and starting a family, Natalie became a little over extended and began searching for help. Upon interviewing home care agencies and assisted living communities and learning about all of the resources and special people out there to help, Natalie fell in love with the Senior Care industry, She made it a goal to eventually transition out of her role as a clinic/marketing director to work in the Senior Care Industry. In 2013 that transition became a reality when Natalie accepted a role as the Marketing and Business Development Manager for Comfort Keepers. Quickly Natalie hit the ground running and became a member of the "Expo for Seniors" committee, the Alzheimer's Walk Committee, a member of the Aging Network Association, Senior Network Providers and Coordination of Care committees in both northern and central MN. In 2015, Natalie joined St. Croix Hospice as a Care Transition Coordinator and continued to grow professionally and personally through her role there, until recently when she accepted the role as Sales and Marketing Director for Talamore Senior Living in St. Cloud.
Currently, Natalie serves on the board of directors for Light the Legacy and still continues to serve on the Expo for Seniors Committee. 
Natalie's favorite quote: "Caring for those who once cared for us is one of life's greatest honors!"